The Fate of Our Lakes
While western Montana's lakes remain clean, blue and mussel-free, scientists at inaugural conference predict environmental and economic threats in face of climate change
By Tristan Scott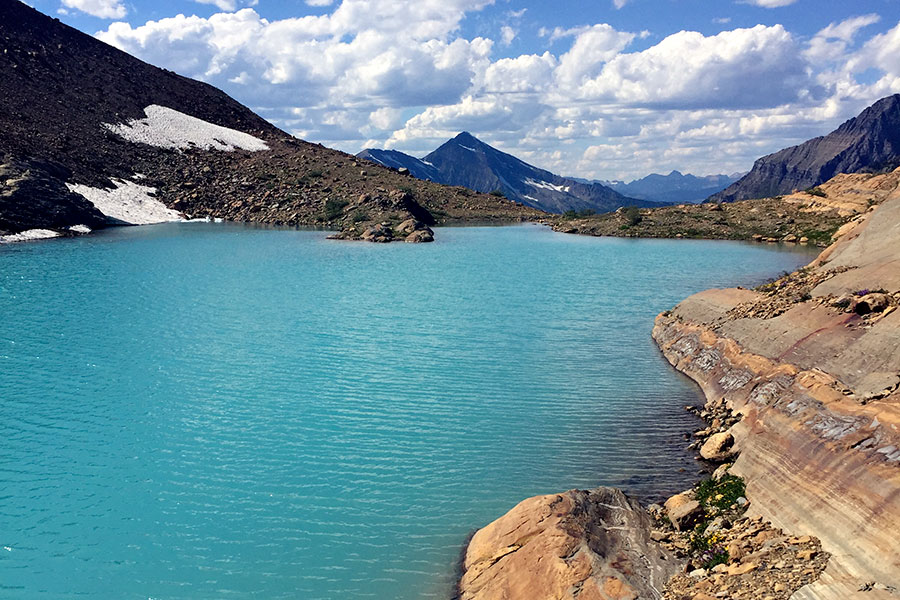 Scientists whose cutting-edge research on lakes spans the globe converged last week on the shore of Whitefish Lake for the inaugural Montana Lakes Conference, where they discussed a suite of emerging lake science and management issues, ranging from the threat of climate change on glacial retreat and invasive species to protecting the water quality and clarity of Flathead and Whitefish lakes.
"The reason that's so important is because a lot of lakes are not so clean," Jim Elser, director of the Flathead Lake Biological Station, told conference attendees, highlighting the research projects his faculty of experts are employing to maintain lake quality.
Organized by the nonprofit Whitefish Lake Institute, the conference at The Lodge at Whitefish Lake brought together diverse panels of experts to explain the roles of research, resource management, education, local lake associations, and citizen science to address the myriad challenges bearing down on lakes and the communities that depend on them.
The dire consequences of those challenges stood out in stark contrast against the backdrop of frozen Whitefish Lake, as well as the future of restoration, monitoring and management.
Mixed in with the predictions of water degradation and the increase of natural disasters due to the trending uptick of global temperatures was a message of hope and collaboration.
"Climate change talks can be very, very depressing," Geoffrey Schladow, a researcher from the University of California-Davis and the Tahoe Research Center, said while discussing the role of lake restoration in a changing climate. "But they don't have to be. All hope is not lost."
To that end, the three-day conference sought to engage both researchers and local citizens whose livelihoods depend on lake-and-snow-based economies, and speakers emphasized the important role communities play in steering management decisions and community-led efforts.
"The health of the lake in the long term will depend on our citizens," Mike Koopal, executive director of the Whitefish Lake Institute, said. "Whitefish Lake is the heart of this community, and we all need to embrace the small changes we can make to ensure the lake remains clean and healthy."
Whitefish Mayor John Muhlfeld said the community benefits by striving to protect water quality, particularly as other water bodies across the country suffer irreparable damage due to the presence of aquatic invasive species and septic leachate.
Here are some of the issues researchers unpacked during the conference, held March 13-15.
Aquatic Invasive Species
Both locally and statewide, efforts to reduce the risk of aquatic invasive species spreading through Montana's water bodies have been stepped up in response to the positive detection in the fall of 2016 of invasive mussel larvae east of the Continental Divide in Tiber Reservoir, as well as their suspected presence in Canyon Ferry Reservoir and the Missouri River near Townsend.
The detections led Gov. Steve Bullock to declare a natural resource emergency and form a joint mussel response team.
While mussels have not crossed over to Northwest Montana, officials from Montana Fish, Wildlife and Parks; the Confederated Salish and Kootenai Tribes; Flathead Lake Biological Station; Glacier National Park; the Montana Invasive Species Council; and other agencies have collaborated on an emergency response plan for the worst-case scenario.
The urgency of the threat is what prompted the city of Whitefish to partner with the Whitefish Lake Institute and Montana State Parks to craft a plan aimed at building a perimeter of mandatory inspection stations around Whitefish Lake, which, compared to other lakes radiating with access points, is relatively easy to contain.
"We are lucky because we have two main launch sites and 10 small launch sites that are all cooperating," Lori Curtis, of the Whitefish Lake Institute, said. "There is no 100 percent, perfect prevention against aquatic invasive species. But this is the best protection short of closing the lake."
Another layer of protection is emerging through recent work by scientists like Cody Youngbull, a physicist and entrepreneur with a Ph.D. in condensed matter physics, who joined the Flathead Lake Biological Station to develop a new facility on the campus that builds state-of-the-art sensors and robotics used in water environments, called SensorSpace. The sensors are able to detect past and present signs of life in the depth of the lake, or study DNA in the water, among other possibilities.
The environmental sensors he invented are able to provide real-time DNA detection of invasive species such as quagga or zebra mussels using eDNA (or environmental DNA) techniques pioneered by Bio Station Research Professor Gordon Luikart, a world leader in emerging eDNA technology, a revolutionary system that can detect the presence of targeted invasive species more quickly and efficiently than conventional measures.
Its application as an early-warning, onsite detection system is unprecedented. In a sprawling body of water like Flathead Lake, relying on visual assessments to search for invasive mussels is like looking for a needle in a haystack.
With Youngbull's technology — called Digital Droplet PCR — all it takes is one biological cell.
"The response time, the lag in understanding, the whole wait-and-see approach is dramatically reduced and more effective," Youngbull said. "Instead of waiting weeks, we know the results in real time."
Septic Leachate
In 2012, the nonprofit Whitefish Lake Institute released the results of a study confirming septic pollution in Whitefish Lake due to outmoded or failing septic systems.
The report concluded that recreation is still safe on Whitefish Lake, but recommended that steps be taken to update aging systems and identified areas along the shoreline where a high risk of future contamination exists.
The purpose of the investigation was to determine the extent of septic leachate from aging septic systems along the shoreline, and also to evaluate the ecological pressures, the economic threats to the Whitefish community and the potential public health risks posed by declining water quality.
Septic leachate is the liquid refuse that remains after wastewater drains through septic solids. It contains high concentrations of bacteria from human waste, detergents and other household materials.
"These findings are not outrageous, this isn't spectacular or sensational, but it is definitely problematic," Curtis, the science and education director at Whitefish Lake Institute, said. "Whenever you have human DNA in a body of water, it is definitely not a good thing, and it's really important for a community to come together and fix it."
The costs of updating decades-old systems would be exorbitant, but Curtis said the need to do so is pressing. Previous studies identified septic leachate in Whitefish Lake as early as 1981, and the problem has only grown worse.
Scientists have also discovered the pollutant in Flathead Lake, but convincing lakeshore residents to either fix the deteriorating systems or replace them with modern lines is an uphill battle.
"A lot of people struggle with the cost of non-point source pollution," Ed Lieser, a retired forester and former state representative who lives on Lion Mountain, said.
In 2016, another report recommended connecting the Lion Mountain community to the city's sewer, but the costs of paying for the project and the potential for a 20 percent boost in property taxes prompted the Lion Mountain Homeowners' Association to vote it down.
Flathead County Registered Sanitarian Kate Cassidy said 79 permitted septic systems have been identified on Whitefish Lake since the Clean Water Act began requiring permitting in 1972, and 22 of those systems are more than 50 years old.
"These are some pretty old systems," she said.
The systems are also serving dwellings that were not originally designed to accommodate the same level of use as they're receiving today, particularly as vacation rentals crop up.
"A lot of these systems need to be replaced," she said. "They do fail. And when they fail, where's it gonna go? It's gonna go right downhill and into your lake."
Glacier National Park
At the Flathead Lake Biological Station, Director Jim Elser has taken his research beyond Flathead Lake and — like the station's founder, Morton J. Elrod, who published the first scientific paper on Glacier National Park's lakes in 1912 — he's keying in on the significance of established high-alpine aquatic systems, as well as nascent lakes forming as the park's namesake glaciers retreat.
One of Elser's lake-sampling excursions led him into the high country of Glacier National Park, where new silt-colored lakes are forming due to glacial recession, directly below streams that support rarefied aquatic species.
Along with Clint Muhlfeld, a research ecologist at the U.S. Geological Survey's Northern Rockies Science Center in Glacier Park, and Joe Giersch, a USGS aquatic entomologist, Elser sampled a newborn lake at the foot of Sperry Glacier. The researchers gathered samples from the newly formed waters at the base of the retreating glacier to determine whether food webs are beginning to form with the colonization of zooplankton.
In some cases the new lakes haven't been named, while in others they have never been studied, and the research is pioneering science in the face of a warming climate.
"These are brand new lakes and no one really knows anything about them," Elser said.
The lakes form in the bedrock and in scalloped depressions in the moraine, and are colored a milky-white or turquoise-blue by the glacial flour.
But even though glacial recession could lead to new aquatic life systems as the lakes take hold, Muhlfeld and Giersch say the species dependent on the cold glacial water feeding them are in jeopardy of extinction, particularly as the park's glaciers are predicted to disappear by 2030.
Giersch authored a study that provides the first comprehensive evaluation of the current status, distribution and habitat requirements of two rare alpine insects found only in the glacial-fed streams. The 20-year study was used to inform the species' status review for consideration of protection under the U.S. Endangered Species Act due to climate-change-induced habitat loss.
Giersch discovered that the meltwater stonefly and western glacier stonefly have a narrow distribution and are restricted to short sections of cold, alpine streams directly below glaciers.
Flathead Lake
As the oldest biological field station in the western hemisphere, the Flathead Lake Biological Station (FLBS) has served as the "Sentinel of the Lake" since 1899, tracking water quality, influencing sweeping change in local environmental practices and gathering a groundswell of data.
In 1977, it instituted a scientifically rigorous monitoring program that served as the first line of defense against current and future threats to the health and quality of the Flathead watershed. These threats range from aquatic invasive species — like zebra and quagga mussels — to nutrient and biological pollution from degraded shoreline septic systems.
Research conducted at FLBS has been an informative force behind significant water-quality conservation achievements, including the ban of phosphorus-containing detergents and the prevention of mining in the upper North Fork Flathead River. The long history of research and monitoring also has resulted in a glut of scientific discovery and insight, cultivating one of the most robust ecological and water-quality records in the world.
Whitefish Lake
Although Whitefish Lake remains relatively clear and pristine, the need for protecting its water quality has never been greater, Whitefish Mayor John Muhlfeld said.
A 2015 report tracking the history of Whitefish Lake's water quality says the lake is at a "tipping point" and could be headed in the direction of poorer water quality without continued vigilance and renewed stewardship by local agencies and organizations.
The Whitefish Lake Institute's "Whitefish Area Water Resources Report: A Status of the Whitefish Lake Watershed and Surrounding Area" served as the first comprehensive water-quality status report of its kind, as well as a blueprint setting the stage for the next decade of research and management in the watershed.
Relying on historical data and seven years of scientific data collection, the report provided stakeholders with an exhaustive account of the natural and cultural history of the sprawling watershed, and offers a foundation for long-term water quality management.
The peer-reviewed watershed assessment accomplished three objectives: It summarized natural and cultural historical records to describe the watershed; it analyzed WLI's and other resource management agencies' data to provide a scientific water-quality assessment; and it provided recommendations to address water-quality issues through restoration and habitat protection, research, education and outreach, and governmental regulations and policy.
According to the report, nature-based tourism accounts for roughly 20 percent of the $7.8 billion annual economy of Flathead and Lake counties. The cost for repairing ecological damage — when it can be repaired — is high, such as in Lake Tahoe on the California-Nevada border has been $1.4 billion since the 1960s, of which $415 million was spent since 2010.
Because the Whitefish Lake watershed is nestled in the larger Flathead Lake watershed, encompassing more than 6 million acres of land and water, which is in turn part of the Columbia River Basin, the decisions made on a local level will have broad impacts elsewhere.
"If you are standing on the beach in Astoria, Oregon, the water that you're looking at in the Pacific Ocean came from the Flathead watershed," Curtis, of the Whitefish Lake Institute, said. "So we are responsible for and affect so many watersheds below us that it is really imperative that people in this watershed pay attention to what they do not only for us, but for the environment and the economies below us."
Climate
As one of the architects of the Paris Accord, an international climate agreement, Dr. Edward Cameron, a global climate strategist, understands the risk of climate change, both to the environment and the economy.
In his keynote address to attendees of the Montana Lakes Conference, Cameron stressed that business leaders should look beyond the term "climate change" and explore everyone's role in building a more sustainable world by outlining what an environmentally conscious and inclusive economy can look like on the regional, national and global level.
In his talk, "A Just and Sustainable World: Building Low-Carbon, Climate Resilient and Inclusive World," Cameron presented key points from the International Panel on Climate Change special report, which details the impacts of global warming on natural and human systems and sustainable development.
In moving the climate conversation forward, Cameron has engaged the business community to build support for curbing carbon emissions, in part by explaining how the global cost of a warming world is estimated to reach between $2 trillion and $4 trillion by 2030, and could be as high as $24 trillion.
There have been 200 weather and climate disasters in the United States since 1980, he said, and in each case the overall damages have exceeded $1 billion, with the total cost exceeding $1.1 trillion.
Still, the denial of climate change exists, and it's becoming even more dangerous as extreme weather events like hurricanes become more common.
"What's happened has corresponded to precise predictions within the science," Cameron said. "No one is claiming that climate is the sole cause of a hurricane, but what people have been saying for decades is that the storms would get larger and more ferocious."
The tragedies disproportionately impact low-income populations and minority groups, Cameron said.
"It's no accident that people of color, minority groups, low-income populations, people who are living in mobile or temporary housing, people who don't have access to insurance — they're the people who are hit first and hardest by these events," he said.
Cameron encouraged local communities to "become agents of sustainability," taking action to reduce emissions beginning in their own household.
Stay Connected with the Daily Roundup.
Sign up for our newsletter and get the best of the Beacon delivered every day to your inbox.