Wildlife
Sow Grizzly Bear Euthanized Following Conflicts Near Eureka
Two of the bear's three cubs were sent to ZooMontana; wildlife officials were unable to capture the third cub
By Beacon Staff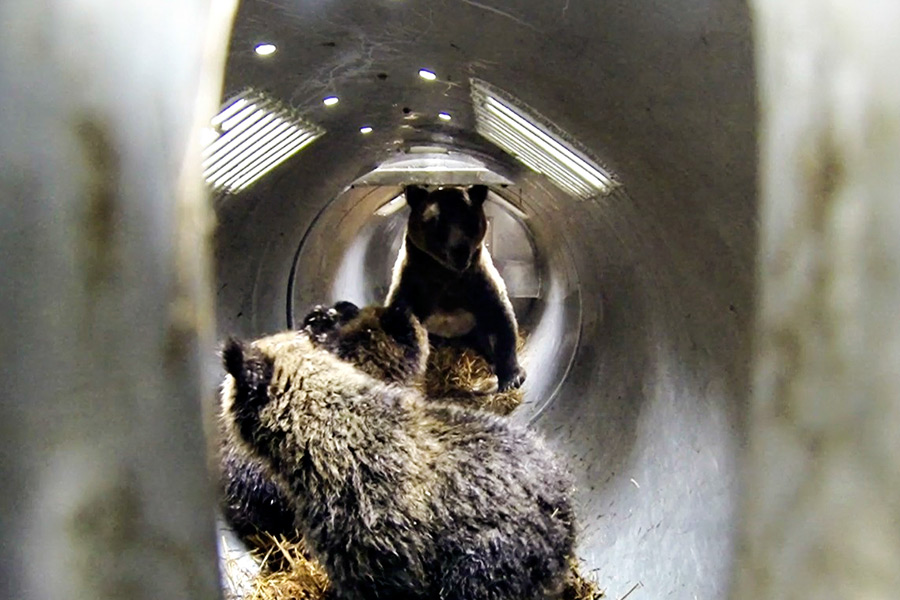 A collared grizzly bear was captured and euthanized after multiple conflicts with people in the Eureka area in Lincoln County, according to a Wednesday news release from Montana Fish, Wildlife and Parks (FWP).
According to the release, FWP received reports of an adult female grizzly bear with three cubs breaking into buildings, cabins, chicken coops and outdoor freezers in search of food sources. The sow grizzly had previously been captured and relocated after conflicts with people in Lincoln County.
On Oct. 1, FWP bear specialists captured the adult female and two of the cubs. Based on reports, the bears were severely food conditioned. The decision was made to euthanize the adult bear in consultation with the U.S. Fish and Wildlife Service and by Interagency Grizzly Bear Committee guidelines.
FWP was unable to capture the third cub and transported the two cubs to the Grizzly and Wolf Discovery Center for temporary placement. Both cubs will be going to ZooMontana, a zoological/botanical garden, accredited arboretum and educational facility in Billings.
According to FWP, the sow grizzly that was euthanized was originally captured in 2014 after getting into unsecured pet food in the Fortine area. She was captured again in 2016 after eating livestock feed and grain, and a third time last year after seeking food sources in buildings; however, FWP bear specialists were unable to immediately identify the bear because the microchip in her ear had either malfunctioned or had been dislodged or migrated in her body naturally. DNA from the conflict sites later confirmed it was the same bear.
Food-conditioned bears are those that have sought and obtained unnatural foods, destroyed property, or displayed aggressive, non-defensive behavior toward humans. Once a bear has become food-conditioned, hazing and aversive conditioning are unlikely to be successful in reversing this type of behavior. Food-conditioned and habituated bears are not relocated due to human safety concerns.
Please report bear conflicts immediately to FWP or your tribal wildlife management agency. Addressing conflicts promptly can help avoid bears from becoming severely food conditioned or habituated.
In northwest Montana, bear managers are: Justine Vallieres, whose jurisdiction includes the northern portion of Flathead County and the Eureka area, and who can be reached at (406) 250-1265; Erik Wenum, whose jurisdiction includes the southern portion of Flathead County, and who can be reached at (406) 250-0062; Jennifer Wissmann, whose jurisdiction includes the Cabinet-Yaak ecosystem and Sanders County, and who can be reached at (406) 291-1320. To reach the Confederated Salish and Kootenai Tribes Wildlife Management Program, call (406) 275-2774. For livestock conflicts, contact USDA Wildlife Services at 1-866-4USDAWS
Learn more about bears at https://fwp.mt.gov/conservation/wildlife-management/bear.
Stay Connected with the Daily Roundup.
Sign up for our newsletter and get the best of the Beacon delivered every day to your inbox.