Federal Prosecutors Respond to Jordan Graham's Appeal
Kalispell woman was sentenced to 30 years in prison after she pushed her newlywed husband off a cliff in Glacier National Park
By Justin Franz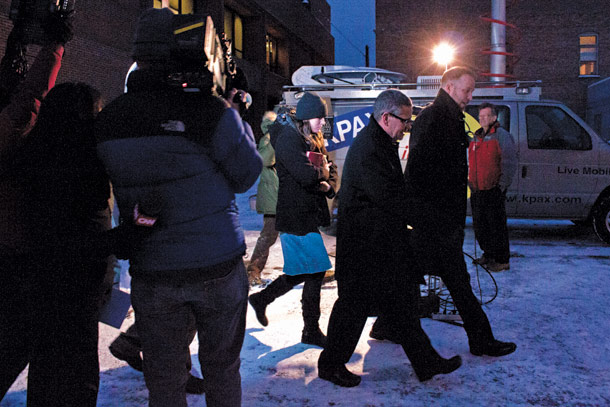 Federal prosecutors have responded to the appeal of a Kalispell woman convicted of murdering her husband of eight days in Glacier National Park.
In their response to Jordan Graham's attorneys, Assistant U.S. Attorneys Zeno Baucus and Kris McLean said District Judge Donald Molloy was correct in sentencing the 23-year-old woman to 30 years in prison for the July 2013 murder of Cody Lee Johnson.
In October 2014, six months after Graham was sentenced, her attorneys argued that federal prosecutors distorted and withheld evidence in order to pursue a first-degree murder charge after she was arrested for second-degree murder. The defense attorneys also claimed that the government breached its plea agreement when it asked for a life sentence and that the court abused its discretion in denying her motion to withdraw her guilty plea just days before her sentencing.
"Graham obstructed justice by lying to investigators about the crime. She made up a story about how Johnson had left with some friends from Washington. She faked an email to lend credibility to that story. The district court did not commit clear error in applying the obstruction of justice enhancement and denying acceptance of responsibility," Baucus wrote. "The conviction and sentence should be affirmed."
Graham and Johnson were married June 30, 2013, but soon after she began having second thoughts about their nuptials. Late on July 7, the couple was having an argument near The Loop on the Going-to-the-Sun Road when, according to Graham, in a sudden fit of rage she pushed Johnson to his death over a 300-foot cliff. Graham initially covered up the murder and said that Johnson had left their Kalispell home with "car buddies," but four days later she led friends and family to his body. On July 16, during an interview with the FBI, Graham admitted that she had pushed her husband off the cliff.
During her murder trial in December, Graham agreed to plead guilty to second-degree murder if prosecutors dropped the charges of first-degree murder and making false statements.
Then, just two days before her sentencing on March 27, 2014, Graham attempted to withdraw her guilty plea, arguing that the government – which asked for a life sentence, but nothing less than 50 years – was trying to punish her for first-degree murder rather than second-degree murder. District Judge Molloy denied her request to withdraw the plea. He then sentenced Graham to 365 months in federal prison.
In response to the accusations that federal prosecutors "distorted" evidence to fit their version of events and charge her with first-degree murder after she had already been charged with second-degree murder, Baucus wrote that Graham waived her right to appeal conduct that occurred prior to her guilty plea when she pleaded guilty at trial.
Baucus also argues that the judge was right to deny Graham's effort to withdraw her plea because she and her attorneys knew that prosecutors could ask the judge for a life sentence. Baucus' response included a transcript of what the federal judge told Graham just before she changed her plea.
"The sentence can be within the guidelines, or it could be above the guidelines, all the way up to life in prison," Molloy said.
The federal prosecutor wrote that Graham failed to offer a "fair and just reason" to withdraw her guilty plea.
Baucus also writes that federal prosecutors did not breach the plea agreement when they asked for a harsh punishment because the agreement was to only drop the charges of first-degree murder and making false statements.
"Allegations that the government breached a non-existent agreement or understanding with respect to the guilty plea are insufficient," Baucus wrote.
Now that the federal government has responded, the Ninth District Court of Appeals can either issue a ruling throwing out the appeal or allow for oral arguments in the matter.
Stay Connected with the Daily Roundup.
Sign up for our newsletter and get the best of the Beacon delivered every day to your inbox.