Appellate Court Denies Jordan Graham's Case for Reduced Sentence
Kalispell woman appealed sentence two years after she fatally pushed her husband of seven days off a cliff in Glacier National Park
By Justin Franz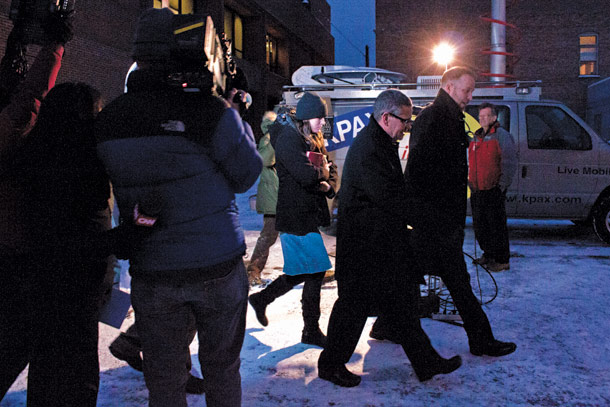 A federal appeals court on Thursday rejected a 23-year-old Kalispell woman's argument for a reduced sentence in the 2013 murder of her husband in Glacier National Park.
On Nov. 19, a three-judge federal appellate court panel denied Jordan Graham's appeal, siding with federal prosecutors and reaffirming the woman's 30-year prison sentence.
The decision was handed down two weeks after the prosecutors and attorneys representing Graham met before Ninth Circuit Court of Appeals judges Raymond C. Fisher, Marsha S. Berzon and Paul J. Watford in Portland, Oregon. The hearing came nearly two years after Graham pleaded guilty to second-degree murder.
Graham was accused of first- and second-degree murder in July 2013 soon after her husband of seven days, Cody Johnson, was found at the bottom of a cliff near The Loop along Going-to-the-Sun Road. Four days into her murder trial in December 2013, Graham accepted a plea deal and admitted to the charge of second-degree murder.
In exchange for the guilty plea, federal prosecutors agreed to drop the first-degree murder charge. She was sentenced to 30 years in prison four months later. She is currently incarcerated at a federal prison in Alabama.
In the appeal, Federal Public Defender Michael Donahoe argued that Graham's sentence was extreme. He also criticized federal prosecutors for alleging that Graham may have planned the murder in their sentencing recommendation. Assistant U.S. Attorney Zeno Baucus responded that they simply made a recommendation and that U.S. District Judge Donald Molloy made the final decision on sentencing.
In the end, the appellate court panel sided with prosecutors, meaning Graham will serve out the remainder of her sentence in prison.
"The government did not breach the plea agreement by arguing premeditation at sentencing, because the agreement contained no provision, express or implied, limiting such arguments," the judges wrote. "The government satisfied its obligations under the plea agreement when it dismissed the first-degree murder charge and the false statement charge in exchange for Graham's plea to second-degree murder."
The judges also stated that Molloy properly exercised his judgment when he rejected Graham's motion to withdraw her plea shortly before sentencing.
Graham's attorneys will have an opportunity to request a rehearing if they believe the judge's panel overlooked any facts in the case.
Stay Connected with the Daily Roundup.
Sign up for our newsletter and get the best of the Beacon delivered every day to your inbox.